About Mandy
Mandy Wheen absolutely cherishes every moment of her client's powerful shifts into their Optimus True Being.  It can be a very challenging process when we face our limitations and protective layers, however with great bravery and determination the movement through them is indeed possible.  Mandy is highly skilled in providing the necessary support to nurture and facilitate these transformative changes.  She is both rewarded and uplifted when individuals realise they are special as they are, and can magically move into feeling clear, confident, comfortable and centred within themselves.  Are you ready?
A little about Mandy's background, is that she originated from England, where she trained and began her Health Career as an Occupational Therapist (BSc(Hons)OT).  She has spent over 15 years in England, New Zealand and Australia working with many clients with various conditions & ages.  Including Anxiety/Depression, Arthritis, Amputees, Brain injury, Cardiac Care, Learning Difficulties, Stroke Rehabilitation, etc, improving both quality of life and independence.  She has initiated and been part of a variety of interventions, including Activities of Daily Living Skills Training, Back Care, Cardiac Rehabilitation, Energy Management, Equipment Education, Falls Prevention, Home Adaptations/Modifications, Stress/Anxiety Management, Various Rehabilitation Programs, etc.
By incorporating the Natural Therapy aspect to her repertoire (Adv Dip Integrated Complementary Medicine, Dip Kinesiology, Dip Mind Body Medicine), she has seen amasing significant transformations with; health & wellbeing; mentally; physically; socially; vocationally; with relationships, etc; within herself, her family and her clients.  She trained at the renowned College of Complementary Medicine in Hornsby, and uses the client centered approach with the empowering philosophy of integrating the mind, body & spirit, leads to being your Optimus True Self.  Mandy finds it very special to be trusted to be part of her clients transformational process.
Mandy has also completed studies in the following qualifications…
The Clinical Science of Biochemic Therapy (Dr.med.W.H.Schuessler) (Diploma)
Institute of Biochemic Medicine – Facial Diagnostics (Certificate)
Dr Bach Flower Remedies (Level 2)
Living Passion & Purpose Practitioner
Reiki in the first degree

Contact Mandy today on
…
About Philip
Philip Wheen is a Sydney trained Physiotherapist (BSc) and Orthoptist (BSc).  He is a highly skilled Physiotherapist, Director and Principal Therapist of Physio 2 You, a mobile Physiotherapy service covering the Northern Beaches, North Shore & Lower Central Coast.  He shares his skills by co-facilitating groups with us. His passion and specialty is in Complex Neurological Conditions including Stroke, Brain Injury, etc.  He is an asset to the team!!
About Lionel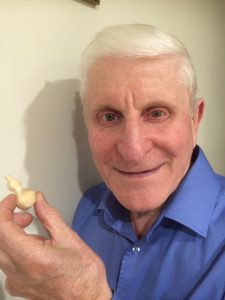 Lionel Underhill is a skilled precision engineer with over 55 years experience.  We are very fortunate to have his expertise, now that he is in "retirement" he manufactures our "wooden little people diffusers", and gorgeous they are.