About Mandy
I enjoy using my special blend of Holistic Kinesiology with a background in Occupational Therapy, to focus on identifying the root cause of dis-ease. My aim is to assist you and your family to feel freedom of movement and thought, as you gain comfort within your own true being, to reach 'optimus' potential.
I was born and bred in England, where my health career quest began as an Occupational Therapist. I have spent over 18 years assisting many clients in hospitals, community and clinical settings in England, New Zealand and Australia. I am passionate about enabling individuals to regain their quality of life and independence. There is no better feeling than helping to prevent dis-ease from an early age. I love helping parents to reduce their and their family's discomfort in order to create true champions. Building inner confidence and personal strength is so important always… gotta love "empowering stars to shine"!
Using my wide skill base, I feel honoured to be able to assist you and your loved ones through this powerful process to be your… "Optimus True Being". I would love to hear from you, and be a trusted part of your transformational process.
Mandy's Qualifications
I have completed qualifications in the following areas…
BSc(Hons) Occupational Therapy (Exeter, UK)
Adv Dip Integrated Complementary Medicine (CCM, Sydney)
Dip Kinesiology (CCM Sydney)
Dip Mind Body Medicine (CCM Sydney)
The Clinical Science of Biochemic Therapy (Dr.med.W.H.Schuessler) (Diploma – Brisbane)
Institute of Biochemic Medicine – Facial Diagnostics (Certificate – Sydney)
Dr Bach Flower Remedies (Level 2 – Sydney)
Living Passion & Purpose Practitioner (Evolve Now – Melbourne)
Reiki in the first degree (Cardiff, UK)
I am a member of the Australian Kinesiology Association (AKA) and the Australian Traditional Medicine Society (ATMS), and am fully insured.

Contact me now to "optimise true potential" on…
…
About Philip
Philip Wheen is a Sydney trained Physiotherapist (BSc) and Orthoptist (BSc). He is a highly skilled Physiotherapist, Director and Principal Therapist of Physio 2 You, a mobile Physiotherapy service covering the Northern Beaches, North Shore & Lower Central Coast. He shares his skills by co-facilitating groups with us. His passion and specialty is in Complex Neurological Conditions including Stroke, Brain Injury, etc. He is an asset to the team!!
About Lionel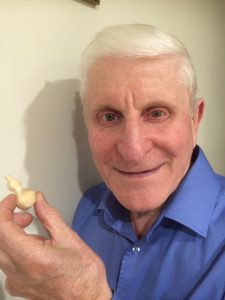 Lionel Underhill is a skilled precision engineer with over 55 years experience. We are very fortunate to have his expertise, now that he is in "retirement" he manufactures our "inner child diffusers", how gorgeous they are!