Healthy Chocolate & Quinoa, Banana Cake
Gluten & Raw Sugar Free, Psyllium husks, Cacao, Quinoa, Banana Bread Cake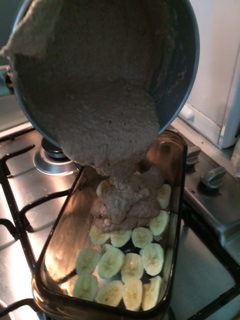 Wow! Yes it is a long title, however I recon it helps to identify why I developed this recipe over a few years. Psyllium husks can be useful for brushing to clean out the intestines, cacao for magnesium and other nutritional ingredients, quinoa as an alternative for gluten, and banana for nutritional content.
Pre-heat oven to 200degrees Celsius, and "butter" (please consider using real butter or ghee instead of margarine, margarine takes so plastic to me now I just refuse to eat it) a glass ovenproof loaf container.
In a large stainless steel saucepan melt 50g BUTTER over a very low heat.
Turn off the heat, and add 360ml of FILTERED WATER.
Add a pinch of ORGANIC SEA SALT.
Add 2.5CUPS ORGANIC QUINOA FLOUR.
Add 4 HEAPED TSP GLUTEN FREE BAKING POWDER.
Add 3 FREE RANGE EGGS (pre-whisked).
Add 1/4 CUP ORGANIC PSYLLIUM HUSKS.
Add 2 TSP MACA POWDER.
Add 1/4 CUP ORGANIC CACAO POWDER.
Add 4 TSP ORGANIC CHIA SEEDS.
Thinly slice 1 BANANA and arrange on the base of the "buttered" pyrex loaf bakeware.
Spread the mixture over the banana, and sprinkle with ORGANIC CACAO NIBS on top to pretty it up and make it look interesting 🙂
Bake for approx 35-40mins until golden brown on top and a skewer comes out clean.
Now share and enjoy!
Options…
This bread is great kept in the freezer, and then toasted from frozen. It tastes great, just like eating out at a cafe but with a healthy slice (be prepared to use flat tongues/tea bag flat squeezers when the toaster is off to assist getting the toast out whole) as it isn't as gluey as gluten containing bread/cake.
Mix in the banana to the mixture, to give an overall taste of banana.
Spread a second layer of banana for added creativity and taste into the middle (pour half the mixture into the loaf container, place the thinly sliced banana onto it, then cover with the remainder of the mixture).
Thank you for taking time to read this, Happy Baking & Eating!
Mandy 🙂
Check out more quick and easy recipes in the drop down menu…
**We chose to use Young Living Essential Oils due to their heart felt pure nature, distilled to the optimum whereby providing the whole plant essence. See the full list of culinary use essential oils for delish-isizing meals…